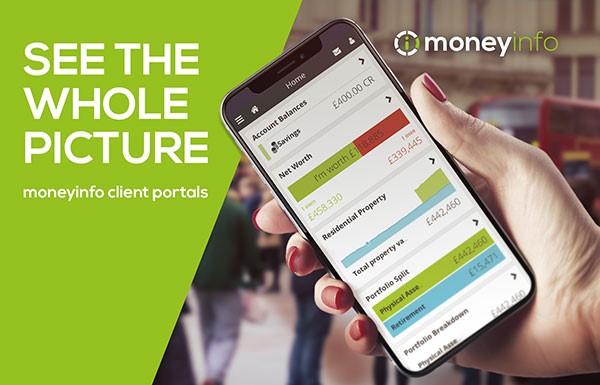 In today's technology world, great systems interconnect for your benefit allowing you to take advantage of best of breed solutions not having to rely on a jack-of-all-trades approach. The key elements to this are the client portal: back office/CRM system and one or more platforms. Satellite solutions for planning, risk profiling, quotes etc should all integrate with your chosen systems.

We'll now cover what the payback is to you, as an adviser, in implementing a client portal along side your back office/CRM system.

Client Portal: What's the payback to the adviser?

The main areas that are improved for an adviser firm by having a portal are:

1. Increase your back-office efficiency

Your back office provides you with new business tracking, compliance and management reporting. By understanding what it does well you can concentrate your efforts to making sure it provides the benefits you need to manage your business efficiently.

I hope we may have stopped you spending time and money moving from one back-office to another simply to find yourself with a different (or worse the same) set of problems. If you have decided to move back-office having a portal in place makes the move seamless for your clients, just make sure the new back-office can be integrated with your portal.

2. Clean up the data in your back-office

The first benefit was to take the data from your back-office and overlay it with clean and up to date data from your platforms and providers. We keep it up to date for you automatically and you are now confident to put it in front of your clients. The portal has provided reliable and accurate data to use throughout your business.

3. Comply with GDPR

A client portal provides secure messaging and two-way document sharing and allows you to stop sending financial information via email. Your clients can see all the data you hold on them and can control through privacy controls what you have access to.
4. Use multiple platforms and best of breed technology suppliers
No single system provides everything your firm will need to run efficiently. Your portal provides integration and data-sharing with your platforms, providers and technology platforms allowing you to use best-of-breed providers to suit your business not a jack-of-all-trades solution which doesn't really work for any part of your business particularly well.
5. Improve the ease and accuracy of your factfinding

Clients can record all their financial life and track property values, insurances, income and expenditure providing you with accurate data for your factfind.

6. Enhance your client service
Your clients get enhanced financial peace of mind by having a technology which is both up to date and comprehensive to manage their finances. They will be really impressed and this will increase your client base as they'll show it to their friends and they'll want one too.
7. Manage more clients

Your more efficient in gathering data and it's easier to communicate digitally than over the telephone or face to face (these channels are still very important though). You will be able to manage more client relationships than before.

8. Make more profits

You can manage more client relationships which will increase your income and going paper-less will save you money. Increasing sales and decreasing costs will lead to a more profitable business.

9. Add value to your business valuation

Your more profitable, efficient and set-up for the future. Who wouldn't want to buy your firm and pay a premium price?


The future of financial services

Once your client has all their data in one place, automated tools to help nudge them into making better financial decisions will become increasingly sophisticated. At some point, you will need to introduce elements of automated (robo) advice to some or all of your clients. You will need to do this to stay competitive in the future world of financial services as costs will be driven down by technology and many elements of advice that your clients currently pay for can be more efficiently done through automation.

The efficient 21st Century, New Model Adviser will not be worried about automated advice technology, they will welcome it to further increase the efficiency of their advice practice. With the fact-find automated, many mundane tasks will be done automatically for the client: plan renewals, maximising ISA and pension contributions, setting insurance levels etc. leaving you free to manage the client relationship and add-value with your enhanced understanding of their complex financial lives.

We'll finish with one last thought:

Your job is to simplify things for your client and your technology suppliers job is to simplify things for you.

Make sure this is happening.
For more information visit www.moneyinfo.com
Mik Cons
CEO, moneyinfo